Our approach to the search process is thoughtful, rigorous and creative; based on a framework with a strong record of success, but adapted to meet the needs of individual clients and the particulars of the search itself. Our goal is to facilitate the recruitment of superlative leaders by presenting clients with a real choice of candidates who are well-suited to the organization and will strengthen its ability to advance its mission.
Core to our search process is a uniquely in-depth assessment, allowing us to bring a comprehensive understanding of the organization, its culture, and its needs to bear on the process.
As a boutique firm, we limit the number of organizations we work with at any given time, allowing us to develop a closer working relationship with our clients and deeper involvement in the process. The intimacy of this approach is reflected in our strong networks and deep roots, which include trusting and long-term relationships with many of our clients and other professionals in the field.
All of our work is adapted to fit the current needs of our clients. For example, we conduct many full, retained, leadership-level searches, beginning with an organizational assessment and ending with the successful recruitment of a new leader. But we have also supplemented an organization's internal human resources function by advising on the search process, qualifying candidates, providing administrative or other support.
Structure of an Executive Search (click image to enlarge)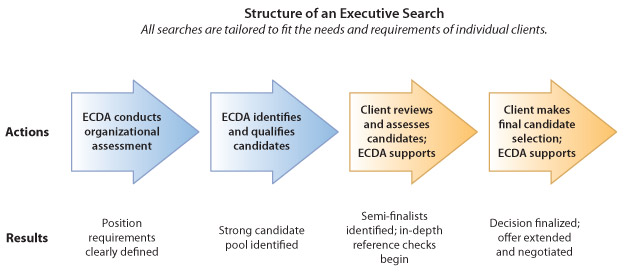 Our expertise includes:
Recruiting new leadership following the tenure of long-term or founding leaders: In these instances, we often provide follow-up consulting support to help jumpstart the relationships between the new executive, the senior staff and the Board and smooth the transition process.
Recruiting founding leadership and creating new leadership positions to support an organization as it grows and changes.
Recruiting board members: We work with organizations to identify and recruit board members who can best serve the organization's needs and help to further its mission.